In answer to the plant efficiency and OEE needs of manufacturers large and small, SCADAware will unveil a game-changing, simplified, Andon-based production monitoring system – StatusWatch Live – at the 2016 IMTS.
Normal, IL – SCADAware, Inc., a leader in control system integration, today announced it will exhibit its StatusWatch production intelligence and plant efficiency product line at IMTS – International Manufacturing Technology Show 2016 being held at McCormick Place, Chicago, IL from September 12 through September 17, 2016. SCADAware will display its full StatusWatch product line in the East Building – Booth: E-4030, and will unveil a new addition to its StatusWatch line – StatusWatch Live.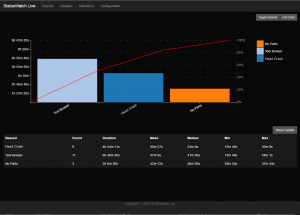 SCADAware developed its StatusWatch product line to monitor asset utilization and analyze plant efficiency. The Andon-based system consists of visual products and systems that interact to alert management, maintenance, and operators of a quality or process problem within a facility. StatusWatch products have consistently helped manufacturers achieve a 20% or more increase in Overall Equipment Effectiveness (OEE) by maximizing plant efficiency through real-time data collection, timely decision making, improved accountability, and continuous improvement.
StatusWatch Live will bring implementation of the production intelligence products to a broader base of manufacturers. It is a standalone, user-friendly system that does not require the use of the customer's server. StatusWatch Live's primary focus is on live data relevant to the current situation on a shop floor.  Current machine/Andon states, discrete part counts, current program number, and other live data is collected and used by StatusWatch Live for notifications, display, and reporting.
"We are excited to introduce StatusWatch Live at IMTS. We are designing this product to appeal to a broader base of manufacturers desiring to improve production processes and OEE. This is a plug-and-play product designed for optimal user experience and ease-of-use," said Rick Caldwell, President of SCADAware.
In addition to StatusWatch Live, SCADAware will be displaying the entire StatusWatch line including:
About SCADAware
Founded in 2000, SCADAware, Inc. is a control system integrator providing strategic industrial automation solutions for clients across a wide range of manufacturing and process industries. The company specializes in the design and implementation state-of-the-art control systems and Supervisory Control and Data Acquisition (SCADA) systems to help clients improve operations performance, safety, efficiency and overall profitability. SCADAware's automation systems have been installed around the world for clients including Fortune 500 firms, US military, heavy equipment manufacturers, municipal freshwater and wastewater treatment facilities, industrial wastewater facilities, food and beverage manufacturers, automobile manufacturers, grain handling facilities, alternative energy industries and others. To learn more about SCADAware, please visit SCADAware.com.