Questions?
Our SCADA System experts can help, call 309.665.0135 or submit your question below.
SCADA System Expertise
SCADAware's team specialize in the design and implementation of Supervisory Control and Data Acquisition (SCADA) systems for a variety of industries. Our designs are based on off-the-shelf hardware and software that are readily available through local distribution which helps to minimize cost and reduce down time.
The SCADAware team has designed, programmed and commissioned SCADA and Control systems for heavy manufacturing, investor-owned utilities, municipal water/waste water utilities, food and beverage utilities, government agencies and many more.
Data Intelligence
SCADA Systems deliver real-time data intelligence to help you improve your operation with well-informed decisions. Our engineers and technicians program PCs/PLCs and develop HMI/SCADA screens that allow operators to monitor and interact with the control system. We thoroughly bench-test our systems prior to installation to assure system start-up and commissioning is smooth and free from unexpected delays.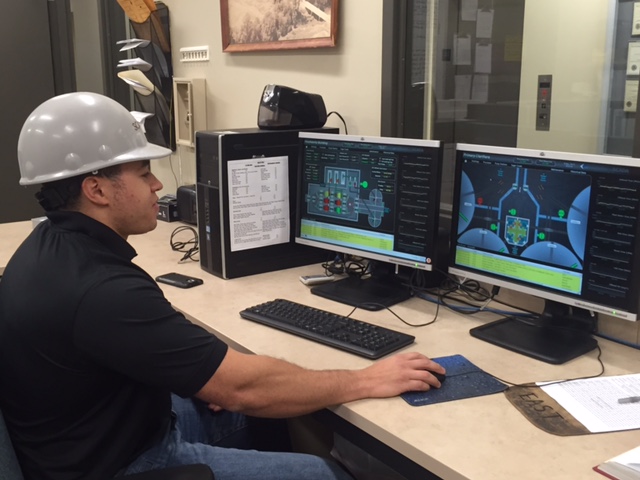 Reliable Service and Support
We are committed to training personnel in the use of their system, and will be available long-term to provide system updates and enhancements to ensure that the control system continues to operate at optimal levels of performance.  SCADAware also offers Service Contracts, which can include 24/7 coverage, to provide maintenance and support.
Proven Experiences & Accomplishments of the SCADAware Team
Springfield Metro Sanitary District
Indiana American Water Company
Missouri American Water Company
Central Lake County Joint Action Water Agency (CLC-JAWA)
Urbana-Champaign Sanitary District (UCSD)
Decatur Sanitary District
Town of Normal, IL
Town of Rock Falls, IL
City of Champaign, IL
City of LaGrange, MO
City of Pekin, IL
City of Farmington, IL
City of Toluca, IL
Consumers Energy
Ameren IP
Texas Gas Transmission, LLC
Caterpillar, Inc.
Radian, Inc.
Cargill, Inc.
Bunge Milling, Inc.
Ascent Corporation- Reuters America
Ascent Corporation- Savvis Communications
Waukesha Engine
Mitsubishi Motors
US Filter / Stranco
Chemical Specialities, Inc. (CSI)
Keystone Steel & Wire
Nestle
GM Electro-Motive
Alcoa Aerospace
NASA